Roof Cleaning Ottawa Hills, OH
Roof Washing
Ottawa Hills, OH Residents Trust
It's not uncommon for homeowners to attempt home projects themselves. However, pressure washing your roof can cause unnecessary damage to the roof, and it can also be dangerous if you're not well-versed in how to properly use a pressure washer. This is a task that should be left for professionals to complete. Not only do we have chemicals and equipment that homeowners don't have, but we also have the knowledge and training to provide you with an excellent roof washing service and results. You mustn't take the risk of getting hurt while cleaning your roof when you have a team like us that you can depend on to provide affordable roof pressure washing services. At All-Star Softwash, we have the training, skills, and experience to do the job right and get it done the first time around. Have you been on the hunt for a roof cleaning service near me? You can trust that we provide the best roof cleaning Ottawa Hills, OH has to offer.
As a professional roof cleaning company, you can rest assured knowing that we at All-Star Softwash are a reliable company that strives for 100% customer satisfaction and to become your trusted company to keep your roof in excellent shape. Routine roof soft washing services are an easy and effective way to ensure the health and well-being of your roof. You no longer need to find Ottawa Hills roof cleaning near me, with our team.
Searching for
Ottawa Hills Roof Cleaning Near Me?
When mold and algae grow on your roof, they can spread into your attic. This can cause interference with your air conditioning and promote health issues, which include allergies and respiratory problems for you and your family. With these materials spreading into your home, it can also cause your roof and its support to rot. Not to mention, when fallen twigs, dust, leaves, dirt, etc., pile up, it can cause critters and insects to find shelter in your home through roof shingles that are damaged. However, the good news is a routine roof cleaning service can help preserve your roof's shingles and tiles. This can ensure that your roof lives a long life, which will save you money in the long run.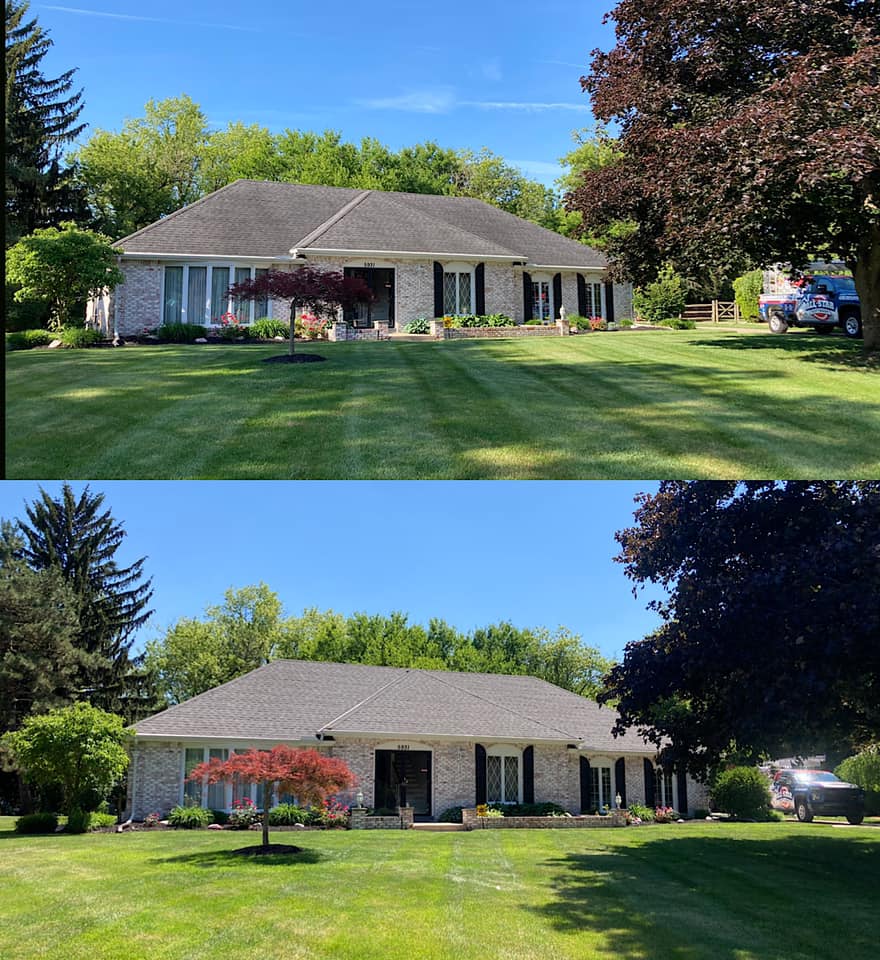 Professional Roof Soft Washing in Ottawa Hills OH
Call Today If You're Searching for
Ottawa Hills Roof Washing Near Me
Are you ready to sell your home but not sure where to start? The process of getting your home ready to sell is not easy but being prepared is important. One way to prepare to sell your home is to get it professionally pressure washed. When potential buyers visit your home, they expect it to be in tip-top condition, and if it isn't, this could prevent them from not wanting to put in an offer. One thing they check out first is the roof. Roofs are a costly investment, one investment that most homeowners are not prepared for. If they find that your roof is dirty and in poor condition, they will likely walk away, and finding someone to buy your home will be difficult. Even if you find a buyer, they will likely offer a lot less, and it won't even be near your asking price. Pressure washing your roof will ensure that it's clean and presentable for future buyers. You must put your best foot forward when it comes to putting your home on the market, and one of the best ways of doing that is to ensure that your roof is in pristine condition.