House Washing Ottawa Hills, OH
House Power Washing
Ottawa Hills, OH Residents Trust
With our soft wash treatments at All-Star Softwash, we can make your home shine again. We use a soft washing process that won't cause damage to the exterior surfaces of your home. However, it will carefully but effectively eliminate dirt, organic materials, stains, and more from the outside of your home. Have you been searching for a house washing service near me? With our team, you can trust that we provide the best house power washing Ottawa Hills, OH has to offer.
At All-Star Softwash, we are an insured, licensed, and professional house washing company that takes pride in our work. With our house pressure washing services, we strive to exceed our customer's expectations and provide them with top customer service. We will get your home back to looking good as new and make it shine again.
Searching for
Ottawa Hills House Washing Near Me?
Our soft washing service involves us using high-quality chemicals; however, don't let the thought of us using chemicals scare you. The chemicals we utilize are water-based, non-hazardous, and biodegradable. The reason why we use chemicals is to ensure that your home gets clean without having to use a high-pressure wash method on your home. The high-pressure wash method should not be used on your home, as it could damage your siding, shatter a window, or even chip soft brick. The soft wash technique may be gentle, but it is effective. We also use a chemical on your plants to protect them. We will rinse your plants before, during, and after the cleaning process. Once we have completed your house washing service, we will use a "Plant Wash" chemical on your plants to protect them from the chemicals we used during this process. This chemical can neutralize other chemicals that potentially came in contact with your landscaping. However, if your plants become damaged during our house soft washing services, we will replace your plants.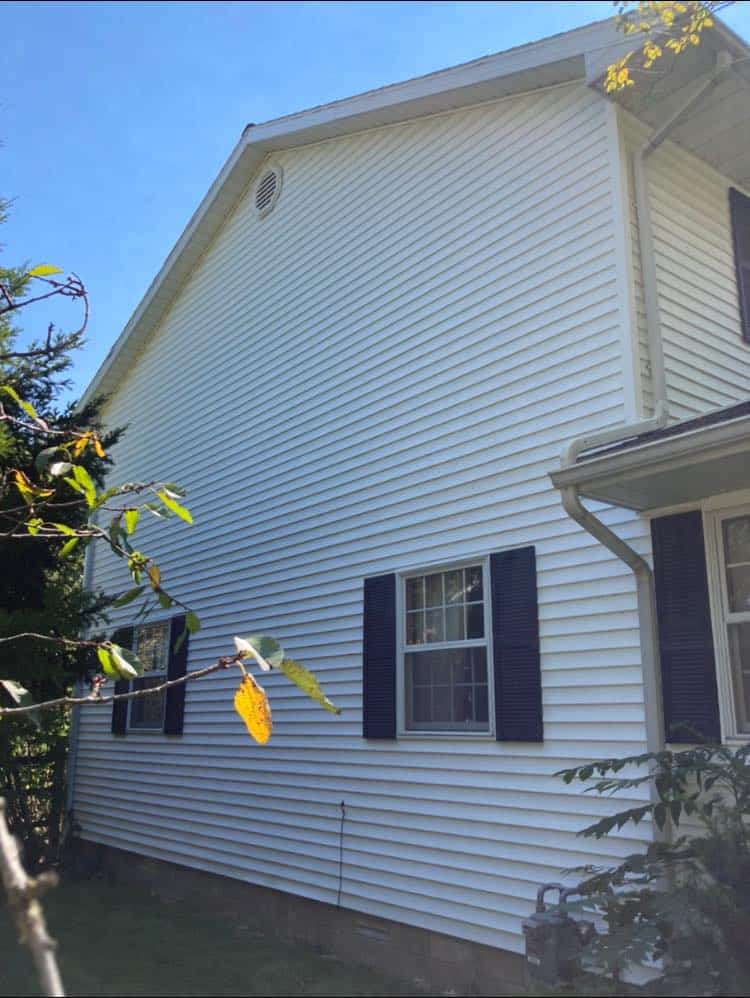 Top-Rated House Pressure Washing in Ottawa Hills, OH
Call Today for
House Soft Washing in Ottawa Hills, OH
Whether you're looking to keep your home clean and in good standing or you want to prepare to sell your home, we can help! One of the easiest ways to prepare your home to put it on the market is to have it professionally pressure cleaned. When a potential buyer comes to see your home, you must put your best foot forward. Preparing the outside of your home is just as important as preparing the inside of your home, as it's the first thing the potential buyer will see. If your home is covered in dirt and debris, it could relay the wrong message that you didn't take care of it and it could even turn them away from purchasing your home. This is why it's important to make sure your home is in tip-top shape before you sell it. Our exterior house washing service will refresh, clean, and restore the look and curb appeal of your home. You can trust that we provide house washing Ottawa Hills, OH locals swear by.
Are you ready for the outside of your home to be clean and shine again? Have you been searching for Ottawa Hills house washing near me? With All-Star Softwash, your search is over. With our team, you can expect that we are professional, dependable, and hardworking. Our services are convenient, and you can trust that we will arrive on time with the appropriate equipment and products. We will also make sure that this process will be a smooth and easy one for you. For more information on our house washing services or for a free quote, make sure you reach out to our excellent team in Ottawa Hills, OH today! We also offer top-rated roof washing, pressure washing, and window cleaning services!