Roof Washing
Toledo, OH Residents Trust
Your roof plays a very important role in protecting your home. However, it's one of the most vulnerable parts of the outside of your home as it's constantly exposed to harsh Ohio weather elements such as; rain, snow, wind, hail, and the sun. Constant exposure to these elements will not only affect the look of your roof but will also affect the quality of your roof. Regardless of whether your roof is made out of the best materials, it is still at risk of wear and tear if it's neglected. However, regular roof pressure washing and maintenance can extend the lifespan of your roof. At All-Star Softwash, we are a fully trained, licensed, and insured roof cleaning company that provides roof cleaning Toledo, OH locals swear by.
At All-Star Softwash, we are a professional team that you can rely on to provide you with the best roof cleaning in Toledo, OH.  We only use top-of-the-line equipment and products, and put our experience and knowledge to the test while cleaning your roof to ensure a safe and easy cleaning process. Our team understands that your roof is a huge investment, which means we will handle it with care. You no longer need to look for a roof cleaning service near me, as we provide the best roof washing Toledo, OH has to offer.
Searching for
Toledo Roof Cleaning Near Me?
While a homeowner can pressure wash their roof, it's not recommended. This should be left for professionals to do, as your roof is made out of delicate materials and they require to be handled gently during the cleaning process. When someone tries to clean their roof without the proper training, it's possible to cause more harm than good. Not to mention, it can be dangerous. Our team utilizes the roof soft washing technique to carefully remove organic materials, dirt, debris, and stains from your roof without causing damage. This technique will ensure that your roof shingles are unharmed and stay intact.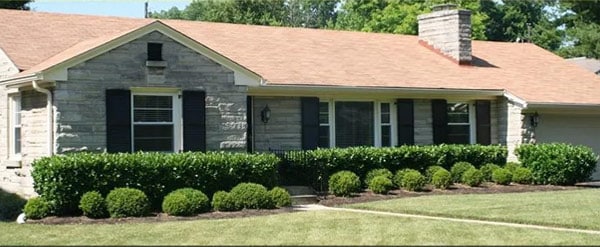 Professional Roof Soft Washing in Toledo OH
Call Today If You're Searching for
Toledo Roof Washing Near Me
Are you thinking about selling your home? When selling your home, there's a long list of things you need to do before you put it on the market. One of those things on the top of your list should be to have your roof professionally cleaned. Your roof makes up a large percentage of your home. When potential buyers visit your home, one of the first things they will notice is the roof. If you have dark algae streaks or moss growing on your roof, it could be relaying the message to the potential buyer that you didn't take care of your roof or that it's in poor condition. By getting your roof professionally washed, you will make it look more presentable to the potential buyer, improve the curb appeal of your roof, and increase the value of your home. When the potential buyer visits your home, one of the things that could make or break a sale is if your roof is in good condition or not. Don't miss out on selling your home due to your roof being dirty. Let us get your roof ready to sell with our roof washing service. With our team, you don't need to find roof washing near me. We've got you covered!
At All-Star Softwash, we provide reliable, convenient, and affordable roof washing services to get your roof clean and back in good standing. Have you been searching for Toledo roof cleaning near me? To learn more about our roof washing service, the other pressure washing services we offer, or for a free quote, make sure you reach out to our team in Toledo, OH today! We also offer professional pressure washing, window cleaning, house washing, and more!