House Power Washing
Toledo, OH Residents Trust
When it comes to your home, you want it to stand out from your neighbors; however, if your home is dirty, it could stand out for all the wrong reasons. Routine cleanings are a great way to prevent your home from not only looking dull, but they prevent the build-up of dirt, organic materials, and grime. At All-Star Softwash, we can make your home look good as new and keep it well-maintained with our house power washing in Toledo, OH.
At All-Star Softwash, we are a house washing company that has the needed experience, skills, and knowledge to provide you with the best services and results. When cleaning your home, we also only use the highest quality equipment, and we use non-hazardous, biodegradable chemical cleaning treatments on the exterior surfaces of your home. There are multiple surfaces on your home that would benefit from our soft washing service, such as; your patio, awning, driveway, house siding, roof, deck, patio covering, garage door, and more. Pressure washing your home can help restore and refresh its appearance. With our team, you no longer need to search for Toledo house washing near me, as we provide house power washing Toledo, OH locals swear by.
Searching for
Toledo House Washing Near Me?
With our house soft washing service, we use non-hazardous and water-based chemicals to help break down contaminants so they can be rinsed easily and quickly without having to use a high-pressure wash on your home. We also understand how important your landscaping is to you. You work hard to maintain your landscaping, and it deserves to be handled with care during our exterior house washing service. This is why we carefully rinse your plants before, during, and after your service and also rinse your plants with a chemical called "Plant Wash" once we've finished washing your home. This chemical is used to neutralize any chemicals that may have come in contact with your plants during your service. It is also water-based, biodegradable, and non-hazardous. Most house pressure washing companies typically neglect plants, or they just rinse the plants with water when they complete the service; however, we aren't like any typical company, we offer full-service house washing in Toledo, OH. Just using water alone won't fully protect your plants from harm by the chemicals used. We take special precautions by continuously rinsing your plants throughout the process and using the plant wash afterward, and if your plants are damaged from our service, we will replace your plants.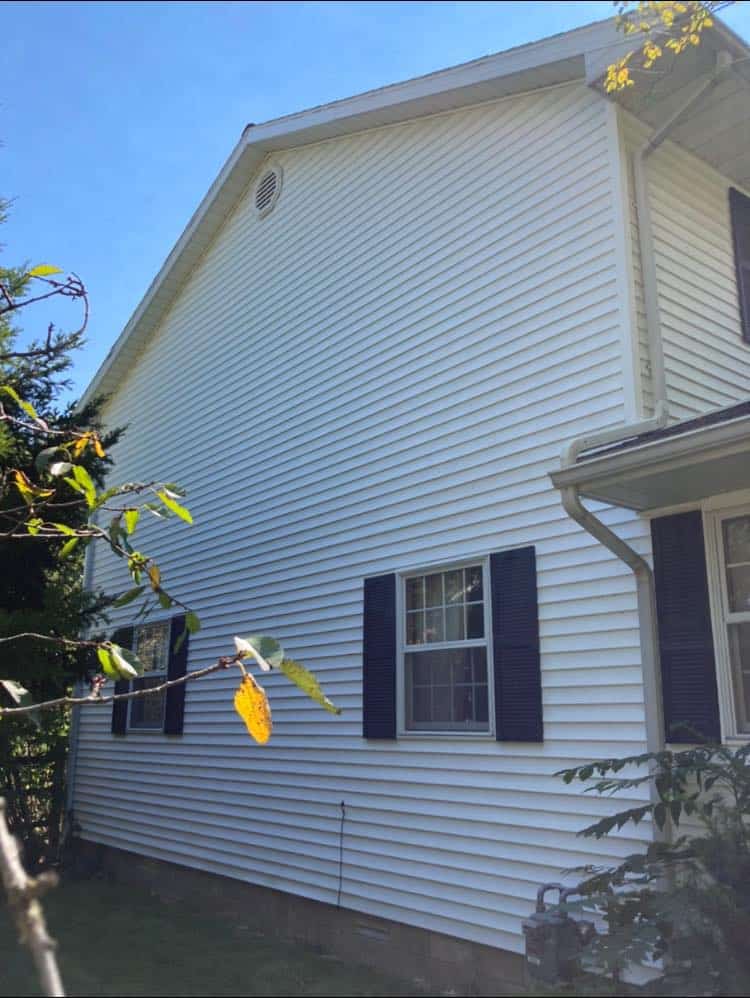 Top-Rated House Pressure Washing in Toledo, OH
Call Today for
House Soft Washing in Toledo, OH
Using a standard high-pressure wash on your home, could not only damage the exterior surfaces of your home, but it typically doesn't eliminate the organic materials at the root of the problem. Our soft washing process carefully but effectively removes dirt, grime, and organic materials at a 99.9% success rate, and it can last up to 6x longer than a standard high-pressure wash. You no longer need to search for a house washing service near me, as we provide the best house washing Toledo, OH has to offer.
Is the outside of your home dirty or seem dull? Pressure washing can do a lot to transform your home and revive it again. At All-Star Softwash, you can expect that our team will be reliable, dependable, professional, and hard-working when cleaning the exterior surfaces of your home. Our expert team has what it takes to provide you with the services and results that your home deserves. We also look forward to providing you with the best customer service for you to have the best experience possible. To learn more about our house washing services, the other services we provide, or for a free quote, make sure you reach out to our team in Toledo, OH today! We also offer professional pressure washing, window cleaning, roof washing, and more!