Roof Cleaning Perrysburg, OH
Roof Washing
Perrysburg, OH Residents Trust
Do not be like most property owners who only think of their roofing system when facing a problem. With roles such as protection from weather elements and aesthetic value, there is a need to ensure your roof is always in top shape. The best way to achieve this is through cleaning; for the best roof cleaning in Perrysburg, OH, and the surrounding areas, there is no better choice than hiring All-Star SoftWash. We have been offering roof cleaning services for years and aim to use our experience to provide you with the best services. Working with us, you never have to worry about our technicians cutting corners. We have all the necessary documents to offer roof pressure washing services, and our experts are some of the best in the business. Call us today and schedule our services to be a part of our success story.
Why choose All-Star SoftWash as your number-one roof cleaning company? For one, we offer flexible working hours. We understand that you are not always available; hence schedule our cleaning within your timeline. Two, our roof washing services come with a five-year warranty. This way, we will re-do the cleaning process in case of any problems within the five years. Three, we only send you professional technicians, individuals with the training, insurance, and tools to provide you with the best roof cleaning services. Finally, our technicians use the best cleaning products and superior cleaning techniques. For example, when we adopt the roof soft washing method. We do this to ensure no damage to your roofing materials during the cleaning process.
Searching for
Perrysburg Roof Cleaning Near Me?
Many benefits come with roof washing in Perrysburg, OH. For one, it prevents damage to your roof. When moss, debris, and algae accumulate on your roofing system, they can be the lead cause of damage to your roof. Two, it improves the aesthetics of your property. Clean roofing will elevate the beauty of your property, making it stand out among the rest. Three, a clean roof increases the value of your property. Buyers are more likely to pay more for a property with a clean roof than vice versa. Finally, cleaning your roof will help you save on the money you would have spent on repairs.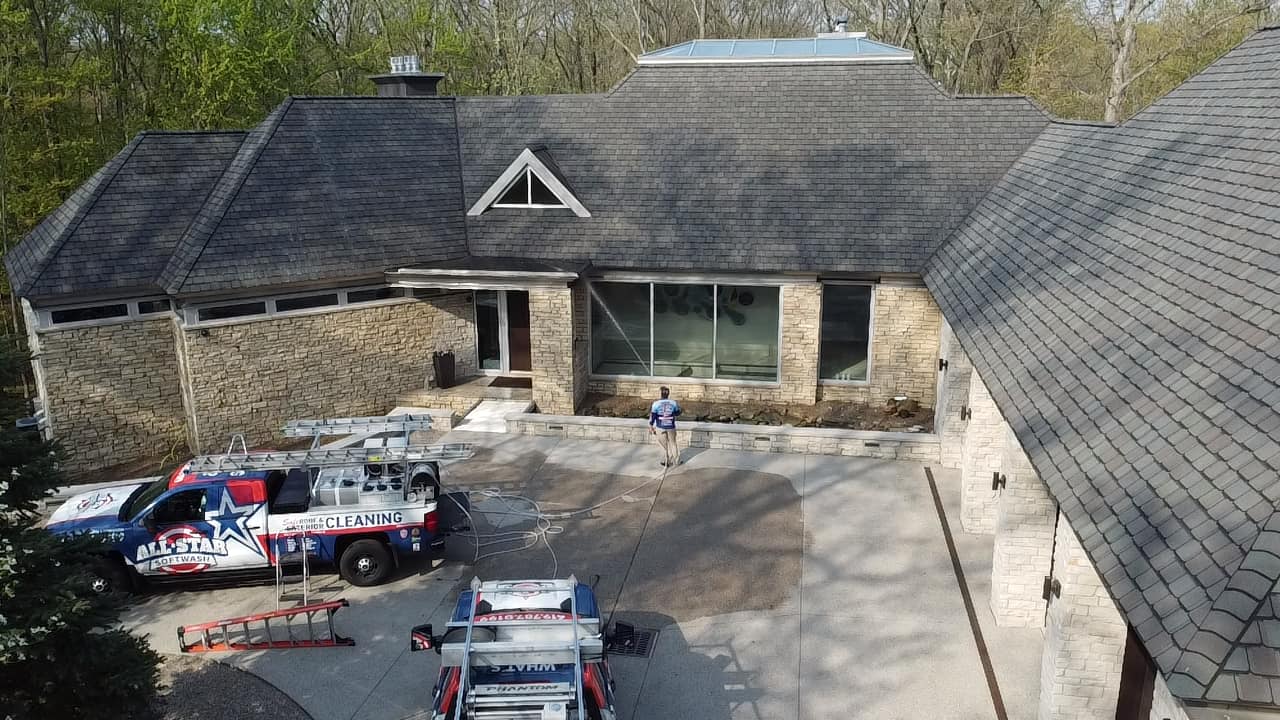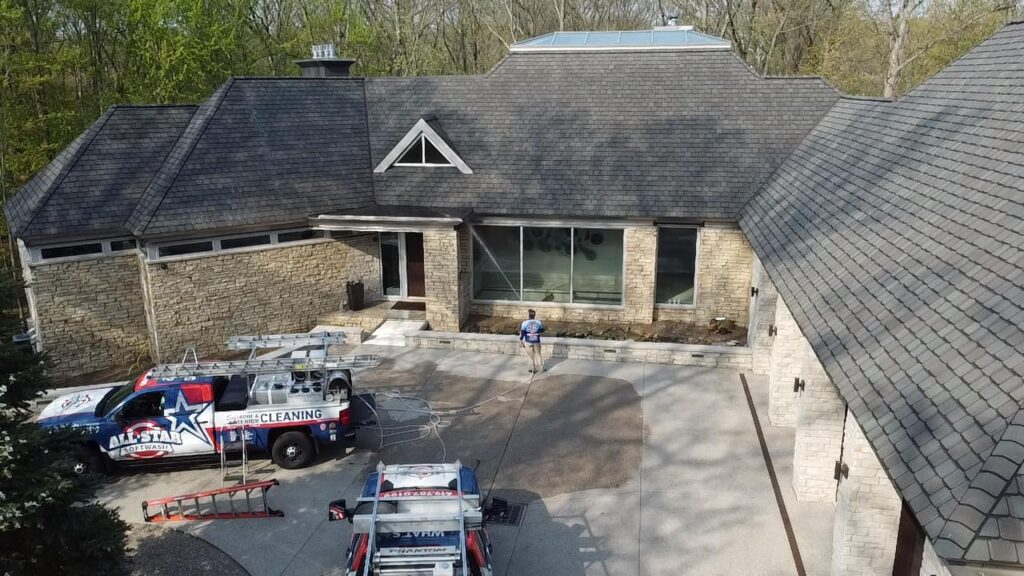 Professional Roof Soft Washing in Perrysburg, OH
Call Today If You're Searching for
Perrysburg Roof Washing Near Me
Part of the Larger Toledo Metropolitan area, Perrysburg, OH, is a lovely city with over 25,000. Many sites could interest you the next time you are in the city. Visit the following areas: The Norma Stark Memory Garden and Labyrinth, Framers Workshop and Gallery, Perrysburg Area Historic Museum Spafford House, Orleans Park, Buttonwood/Betty C. Black Recreation Area, The 577 Foundation, Fort Meigs Ohio's Battlefield, W.W. Knight Nature Preserve, Riverside Park, Sawyer Quarry Nature Preserve, Sculpture Walk II at Woodlands Park, Fishin Edition Charters, and Rave Cinemas Levis Commons.
When looking for Perrysburg roof cleaning near me, call All-Star SoftWash. Our clients are the most important people in our business, and we strive to surpass their targets with every project. When you call with a project, we will begin by inspecting your roof and provide you with a free quote before proceeding to clean. Hire us because we offer the best services at an affordable rate with flexible working hours. Give a call for a chance to get the best roof cleaning services in Perrysburg, OH, and the surrounding areas. We also offer professional pressure washing, house washing, and window cleaning services!