House Washing Perrysburg, OH
House Power Washing
Perrysburg, OH Residents Trust
Is the exterior of your home giving you sleepless nights? Has the build-up of dirt and grime shadowed the beauty that your property once had? If so, then it is about time you considered hiring a professional for professional house washing services. For quality house washing in Perrysburg, OH, and the surrounding areas, the company to call is All-Star SoftWash. We have been at it for years and will be more than happy to help you restore the dignity of your property. We have experts with experience providing exterior house washing services who will be ready to get to work when you call. Call and schedule our services today for a chance to be a part of our success story.
Pick All-Star SoftWash for house power washing in Perrysburg, OH, and the surrounding areas for the following reasons. For one, we have flexible working hours. This way, we can clean your property without eating into your daily plans. Two, our technicians are some of the best in the business. They have years of experience in the cleaning business and will use their knowledge to ensure they please your needs at all times. They also have the training, insurance, and equipment to guarantee superior cleaning services. Three, our house cleaning services come with a one-year warranty. If you experience any problems within one year of us cleaning your house, we will be happy to re-do the work. Finally, to ensure a smooth cleaning process, our technicians combine the use of the best products and superior techniques. For example, we use soft washing to protect your building materials when cleaning. For quality house soft washing in Perrysburg, OH, and the surrounding areas, call All-Star SoftWash.
Searching for
Perrysburg House Washing Near Me?
House pressure washing comes with many benefits for your property. For one, it improves the curb appeal of your property. Cleanliness will boost the beauty of your property. Two, it ensures there is no build-up of dirt and grime. If you do not regularly clean your house, dirt and grime can accumulate, which could cause damage to your building materials. Three, it prevents dirt and grime from damaging your building materials. Lastly, it helps you save on the money you will likely spend repairing damages from the accumulation of dirt and grime. To ensure you experience the above benefits, hire All-Star SoftWash, the best house-washing company in Perrysburg, OH.
Located in Wood County, Perrysburg, OH, is part of the larger Toledo Metropolitan area with a population of about 25,000. The city has plenty of sites that give you a sneak peek into its history. The spots include The 577 Foundation, Fort Meigs Ohio's Battlefield, W.W. Knight Nature Preserve, Riverside Park, Sawyer Quarry Nature Preserve, The Norma Stark Memory Garden and Labyrinth, Perrysburg Area Historic Museum Spafford House, Orleans Park, Buttonwood/Betty C. Black Recreation Area, Saint John XXIII Catholic Church, J.C. Reuthinger Memorial Preserve, Levis Commons, Funny Bone Comedy Club, Perry Falls Mini Golf and Perrysburg Sculpture Walk.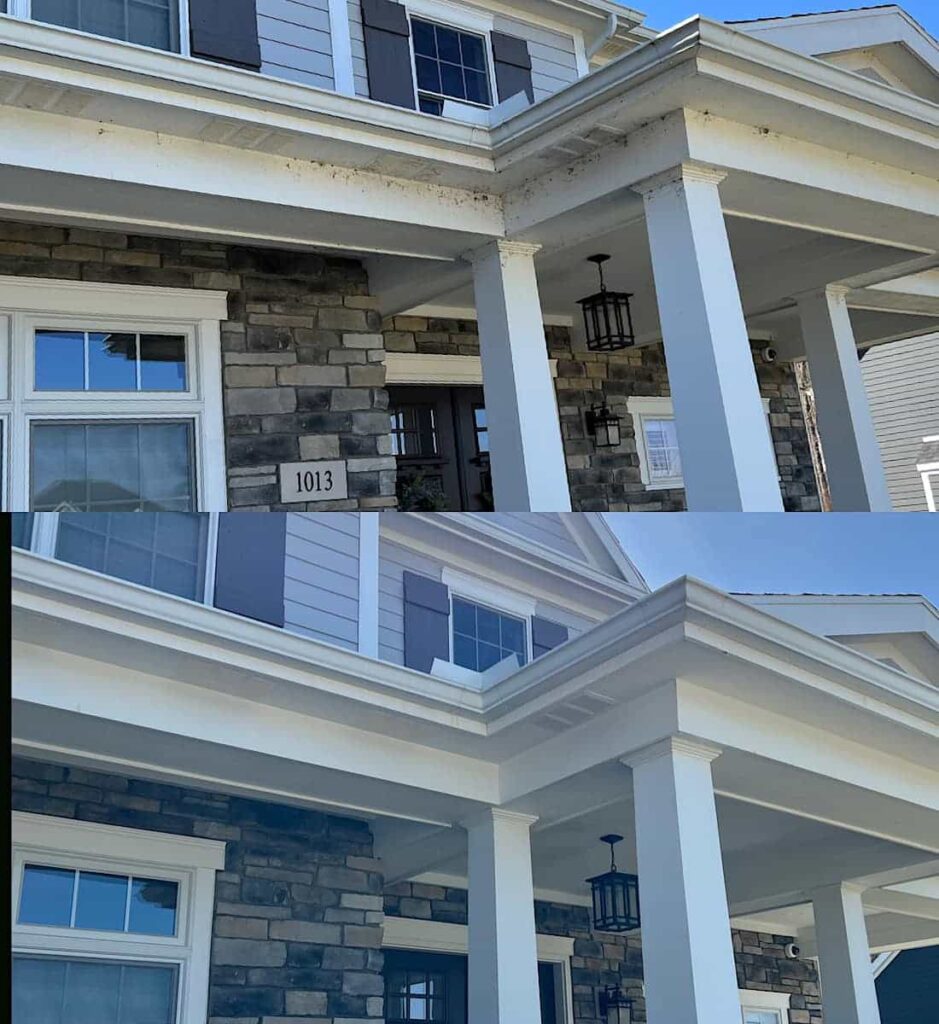 Top-Rated House Power Washing Perrysburg, OH Residents Trust
Call Today for
House Soft Washing in Perrysburg, OH
When looking for Perrysburg house washing near me, call All-Star SoftWash. Our customers are the most important people in our business. This way, we only leave your premises once you state you are satisfied with our work. We have been cleaning houses for years and have nothing but success stories to share. Call us today to be a part of our success story. We will begin with an inspection and give you a free quote before getting to work. Do not worry about your budget; all our services are affordable for all. Get in touch today for the best house power washing in Perrysburg, OH, and the surrounding towns. We also offer professional pressure washing, roof washing, and window cleaning services!