Roof Cleaning Holland, OH
Roof Washing
Holland, OH Residents Trust
It might take having a problem for most homeowners to notice the significance of their roofing system. Yet, in the face of such a problem, they will witness the size of why they need to take better care of their roof. One of the best ways to take care of your roof, ensuring it remains functional for a long, is through cleaning. Call All-Star SoftWash for quality roof cleaning in Holland, OH, and the surrounding areas. We have been offering roof cleaning services for years and have had nothing but success. We know our craft and understand what cleaning product to use and when. We also use some of the best techniques to guarantee efficiency. For more information or to be a part of our success story, schedule our technicians today for the best roof pressure washing services in the city.
Why are we the number one roof cleaning company in Holland, OH? Number one is our ability to work within the schedule of most of our clients. We understand that you have plans and responsibilities; this way have flexible working hours to ensure we provide our services when it is most convenient for all. Two, our technicians are the best at their craft. They have years of experience, training, insurance, and tools to provide you with the best cleaning services. Three, our roof washing services come with a five-year warranty. If you run into a problem within five years of us cleaning your roof, we will be happy to do it again. Finally, we use a combination of the best cleaning products and methods. For instance, we adopt the roof soft washing method to prevent any damage during the cleaning process.
Searching for
Holland Roof Cleaning Near Me?
There are advantages to roof washing in Holland, OH. For one, it enhances the beauty of your property. Cleaning your roof will elevate the look of your property, making it look unique. Two, it prevents damage. Without regular cleaning, there will be a build-up of debris, algae, and moss which could be the leading cause of roof damage. Three, it increases the value of your property. Cleaning your roof will boost curb appeal, enabling you to sell it for a higher price. Finally, it helps you save money. Roof repairs or changes are not cheap. Cleaning your roof will ensure you do not have to repair or replace it until it is necessary.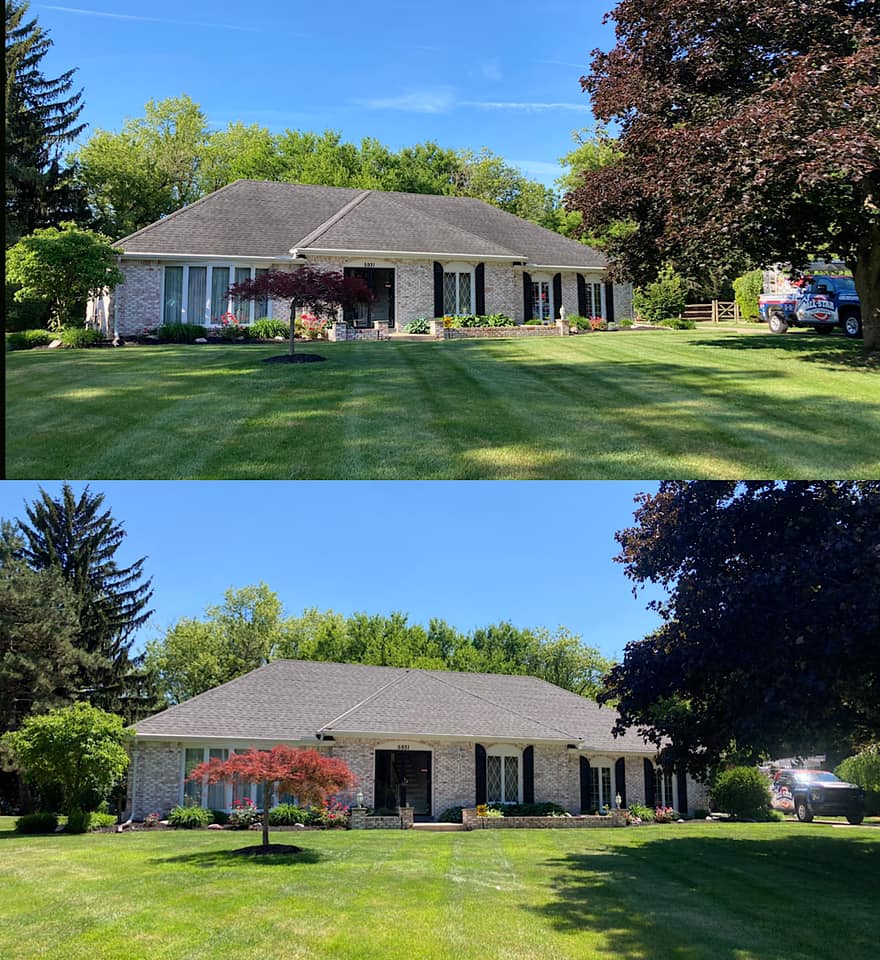 Professional Roof Soft Washing in Holland, OH
Call Today If You're Searching for
Holland Roof Washing Near Me
A suburb of Toledo, Holland, OH, is a beautiful city with a population of 16,000. The town has plenty of stunning sites you can experience the next time you find yourself in the area. Visit the following spots: J.H. Fentress Antique Popcorn Museum, HH Antiques, Collectibles and Gifts, Debi's Southwyck Lounge, Smokey Bines Bar and Fire Maumee, Maumee Antique Mall, Fallen Timbers Battlefield, Stranahan Theater, Irwin Prairie State Nature Preserve, Trapped Toledo, Frogtown Johnnies.
If you are looking for Holland roof cleaning near me, hire All-Star SoftWash. We have been at it for years and will use our years of knowledge to satisfy all your cleaning needs. Our customers are the most important people in our business, and we strive with every project to ensure they are satisfied. When you call us with a project, we inspect, provide a quotation, then clean. Our services are affordable, and we also have very flexible working hours. Contact us today for more information or to schedule our roof cleaning services in Holland, OH, and the surrounding areas. We also offer professional pressure washing, house washing, and window cleaning services.