Roof Washing
Maumee, OH Residents Trust
Those brown or black streaks on your roof are not only unpleasant to look at, but they can be quite harmful to your roof. Those black streaks are a form of algae, and once they begin to grow on your roof, they will spread quickly and can cause damage. Once you notice these streaks on your roof, it's essential to have your roof professionally pressure washed to avoid potential damage, costly repairs or replacements, and health issues. At All-Star Softwash, we can safely and effectively eliminate the algae and other elements that are growing on your roof and get it back to looking as good as new with our roof washing service. 
Organic materials such as; lichen, mold, algae, mildew, moss, etc., have the capability of causing not only damage to your roof but also health issues. The health issues they can cause are allergies and respiratory problems. At All-Star Softwash, you can trust that we will safely, quickly, and effectively eliminate these materials from your roof with our roof soft washing service. By receiving routine roof pressure washing services, you will ensure that you get the most out of your roof, and you will create a healthier and safer environment for you and your loved ones. Have you been looking for Maumee roof cleaning near me? With our team, your look is over, as we provide the best roof cleaning Maumee, OH has to offer.
Searching for
Maumee Roof Cleaning Near Me?
When you have mold, fungus, and algae on your roof, they tend to absorb more heat due to the black pigmentation of these materials. Your air conditioner will have to work harder the higher the temperatures climb on your roof due to your roof being unable to reflect the sun. Your roof needs to be able to reflect the sun so it can keep your home and attic cooler for you to save money on your heating and cooling bill. This is one advantage of our roof cleaning service. We will be able to eliminate the materials growing on your roof for you to save on energy costs. With our team, you no longer need to find roof washing near me, as we provide the best roof washing Maumee, OH has to offer.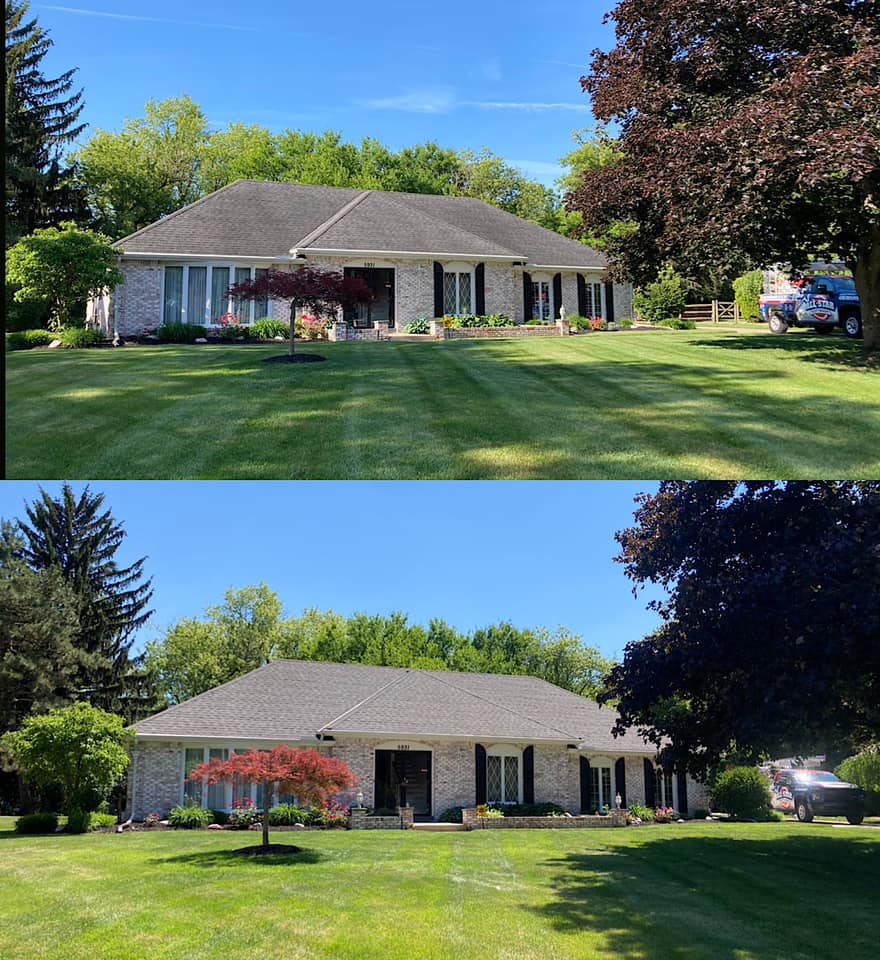 Professional Roof Soft Washing in Maumee OH
Call Today If You're Searching for
Maumee Roof Washing Near Me
It's not uncommon for home insurance to check in and make sure that your roof is being well taken care of. They want to ensure that your roof can withstand the elements that it faces and that it's still doing its job of protecting your family. If they find that your roof visibly has organic materials growing on it, it's not uncommon for insurance companies to drop policies. To maintain the health and well-being of your roof, it's essential to get your roof professionally cleaned every five years, and debris should be cleaned off every year. With our team, you can trust that your roof is in good hands with us and the services we offer. The good news is we also have a five-year limited warranty on all complete roof cleanings for organic material growths.
Have you been searching for a roof cleaning service near me? At All-Star Softwash, we are a roof cleaning company that is insured, licensed, and dependable. We take pride in not only the results we deliver to our customers but also the excellent customer service we provide. It's important to us that our customers are 100% satisfied with their results. For more information on our roof cleaning service or the other pressure washing services we offer, make sure you reach out to our team today! We also offer top-rated pressure washing, house washing, and window cleaning!