Certified Residential Roof & Exterior Cleaning
Roof Cleaning Sylvania, OH
Roof Washing
Sylvania, OH Residents Trust
Does your roof appear to have black or brown streaks? These streaks are algae, and they are not only unpleasant to look at, but they also can cause damage to your roof. While these streaks are often mistaken for dirt, it's a type of algae growth called Gloeocapsa Magma. Gloeocapsa Magma is transmitted through the air and can land, grow, and spread on roofs. This type of algae not only looks unappealing, but it can also cause damage and early deterioration to your roof. Routine roof pressure washing will eliminate the algae and other organic materials growing on your roof and keep your roof clean and in good standing. Have you been searching for a roof cleaning service near me? At All-Star Softwash, we provide the best roof cleaning Sylvania, OH has to offer. 
At All-Star Softwash, we are a roof cleaning company that is insured, licensed, and trained to provide roof soft washing services that will eliminate the growth of organic materials from the root of the problem to prevent them from regrowing. They can still grow new, but there won't be regrowth, as there would be with standard pressure washing. Not to mention, standard pressure washing can cause damage to your roof. By soft washing your roof, you will extend the life of your roof, save on potential repair or replacement costs, and improve the curb appeal of your roof. With our team, you no longer need to find Sylvania roof cleaning near me. We've got you covered.
Searching for
Sylvania Roof Cleaning Near Me?
Not only do regular cleanings help with the appearance of your roof, but they can also prevent you from missing any repairs that need to be done to your roof. Problems with your roof can go easily unnoticed when they hide under dirt, organic materials, debris, and more. However, it's essential to try and catch these problems early before they turn into costly repairs and even a roof replacement. Regular cleanings will prevent the build-up of materials growing on your roof, which will eliminate the risk of these issues being overlooked. With our team, you no longer need to search for roof washing near me, as we provide the best roof washing Sylvania, OH has to offer.
One of the advantages of pressure washing your roof is that it helps preserve its shingles and tiles. This ensures that it has a long lifespan, and it saves you money in the long run. Over time, organic materials can build up on your roof and cause not only deterioration but discoloration. They can also hamper water collection due to interfering with the waterlines on your roof. If not addressed promptly, this can cause irreversible damage and cause you to need a roof replacement. Our professional roof cleaning Sylvania, OH services will ensure that you get the most out of your roof and will be able to enjoy it for years to come.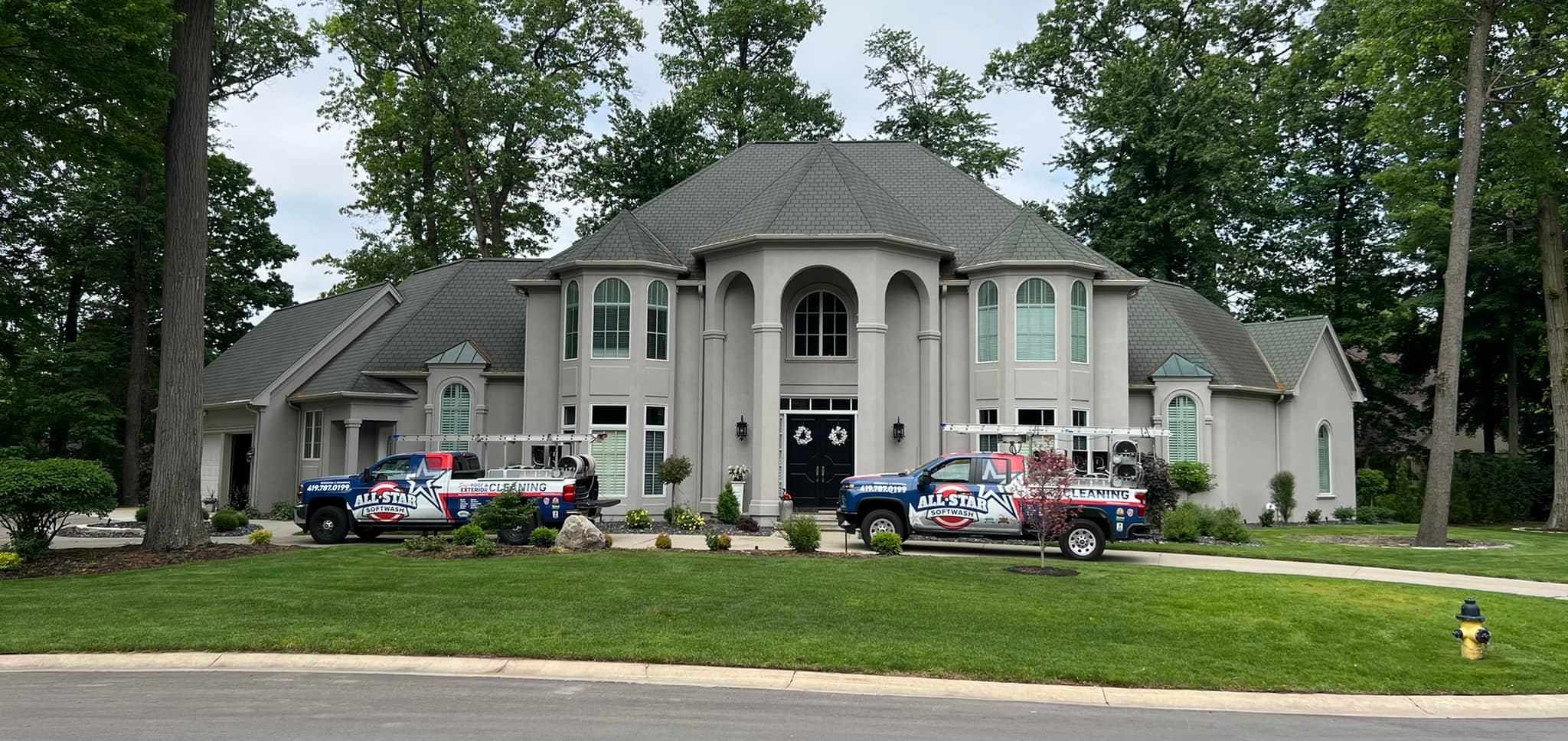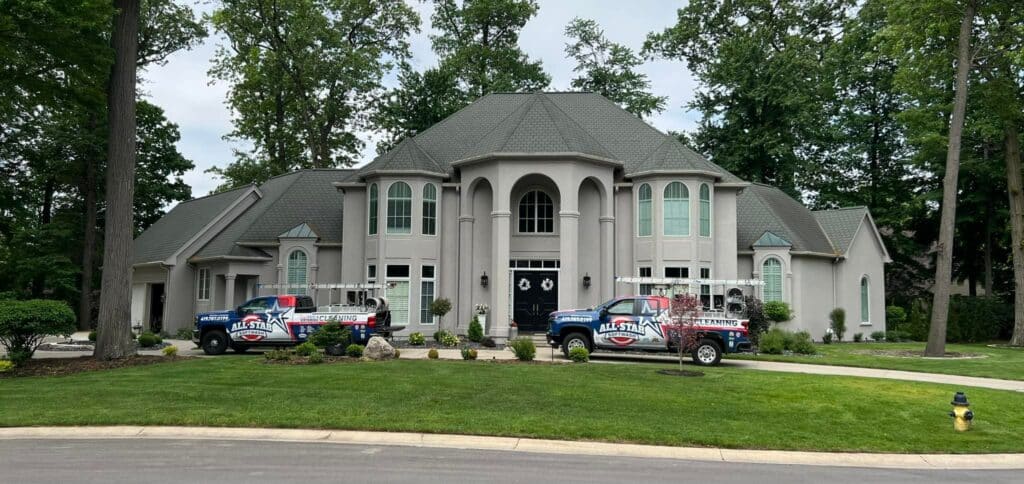 Certified Residential Roof & Exterior Cleaning
Professional Roof Soft Washing in Sylvania OH
Call Today If You're Searching for
Sylvania Roof Washing Near Me
When it comes to your home insurance company, they want to know that your property and roof are well taken care of and are capable of withstanding the harsh outdoor elements that it faces. It's essential to have your roof cleaned every five years, while debris should be cleaned off every year. It's also not uncommon for some insurance companies to drop policies when the roof visibly has moss, algae, or lichen growing on the homeowner's roof.
At All-Star Softwash, we take pride in not only delivering the best results to our customers but also in providing excellent customer service. Make sure you contact our team to learn more about our roof washing service today! We also offer professional pressure washing, house washing, and window cleaning!